Mi Curved Gaming Monitor 34″
Surround yourself with an exciting and
immersive gaming and entertainment experience
21:9 UltraWide Screen   |   WQHD 3440×1440 Resolution   |   1500R Extreme Curvature   |   121% sRGB Wide Color Gamut
144Hz High Refresh Rate   |   FreeSync Premium Variable Refresh Rate Technology   |   Low Blue Light, No Visible Flicker Low Blue Light Mode
Exciting and Immersive Gaming Experience
Wide field of view and ultra-high definition,
smooth picture puts you in control at the center of the action
21:9 UltraWide Panoramic View
Lets you assess the entire landscape
at a glance to give you the advantage
The 21:9 gaming interface provides a 30% wider view than
standard 16:9 monitors
Especially in real-time strategy and first-person shooter games,
the wider field of view lets you see in-game developments first,
giving you the advantage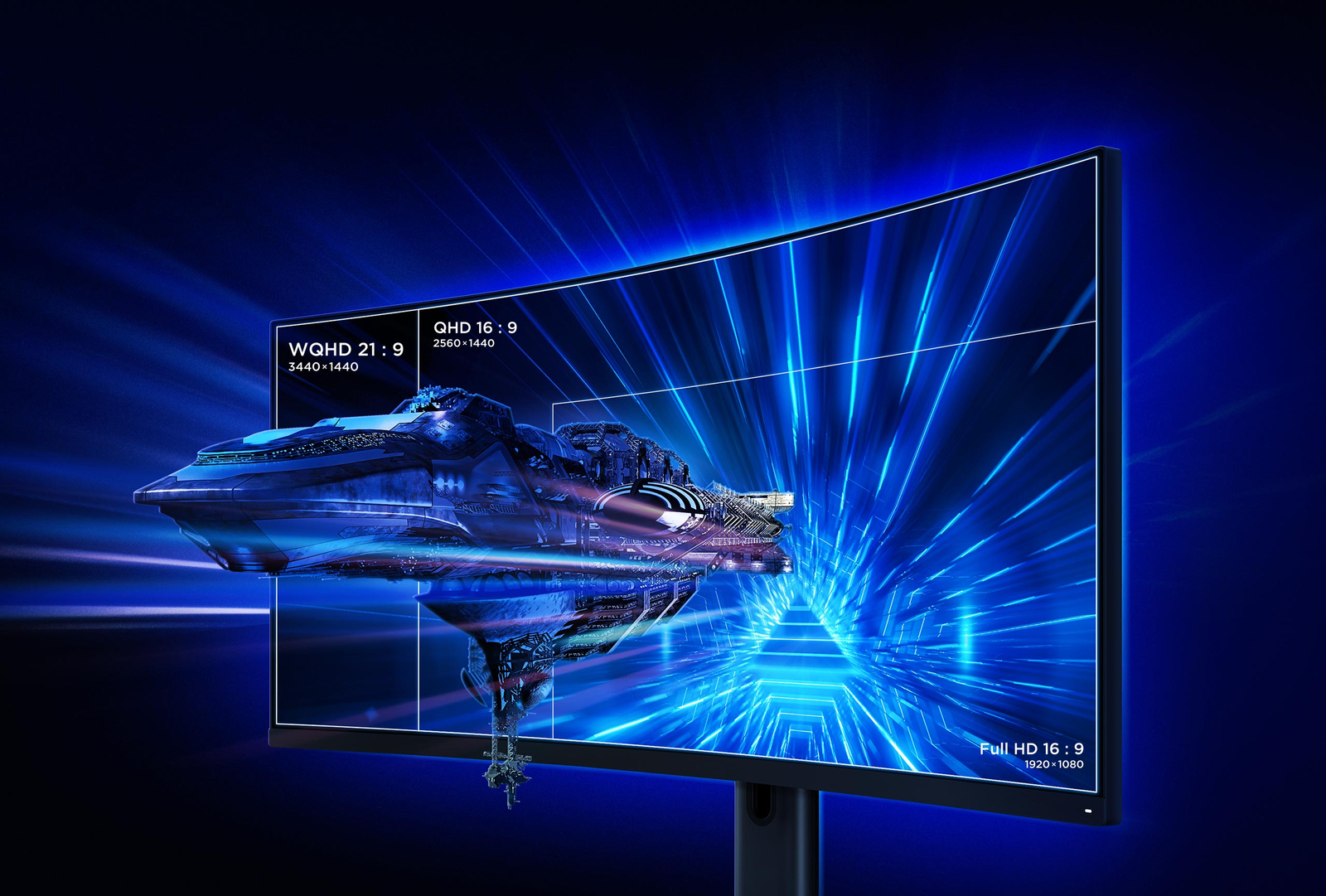 Ultra-high definition, high brightness, high contrast
Stunning scenes demand stunning, high-definition picture quality
Ultra-clear picture quality,
down to the finest detail
Ultra-high-definition 3440 × 1440 resolution reveals
exquisitely realistic detail in every corner of the scene,
bringing spectacular game worlds to life.
3440×1440
UHD resolution
High brightness and high contrast ratio
generate bright and vivid images
With brightness up to 300 nits and a high 3000:1 contrast
ratio, the monitor displays clear, vivid beautiful images from
blinding white to midnight black.
1500R Extreme Curvature
The 1500R extreme curvature design feels like being surrounded by the screen, giving you an immersive panoramic view. The curved
screen creates a smaller visual inclination angle, so that every point on the screen is almost equally distant from your eyes, reducing
visual distortion and giving you a more realistic view of every corner.
High 144Hz Refresh Rate
High-speed response puts you one step ahead of the action
The high 144 Hz refresh rate and 4 ms response time effectively reduce stutter and ghosting in games
In shooting games that require quick reactions,
this makes it easier to accurately lock onto and hit your target when speed it the key to winning
AMD FreeSync Premium
Fights screen tearing for smooth picture
AMD FreeSync Premium technology keeps the picture in sync with high frame rate input, reducing stutter, lines and screen tearing
when gaming, for a smoother picture that gives you a major advantage