Mi Smart Projector 2 Pro
1300 ANSI Lumens  |  Certified Android TV  |  Certified Netflix  |  TOF Instant Focus  |  Omni-directional Auto-correction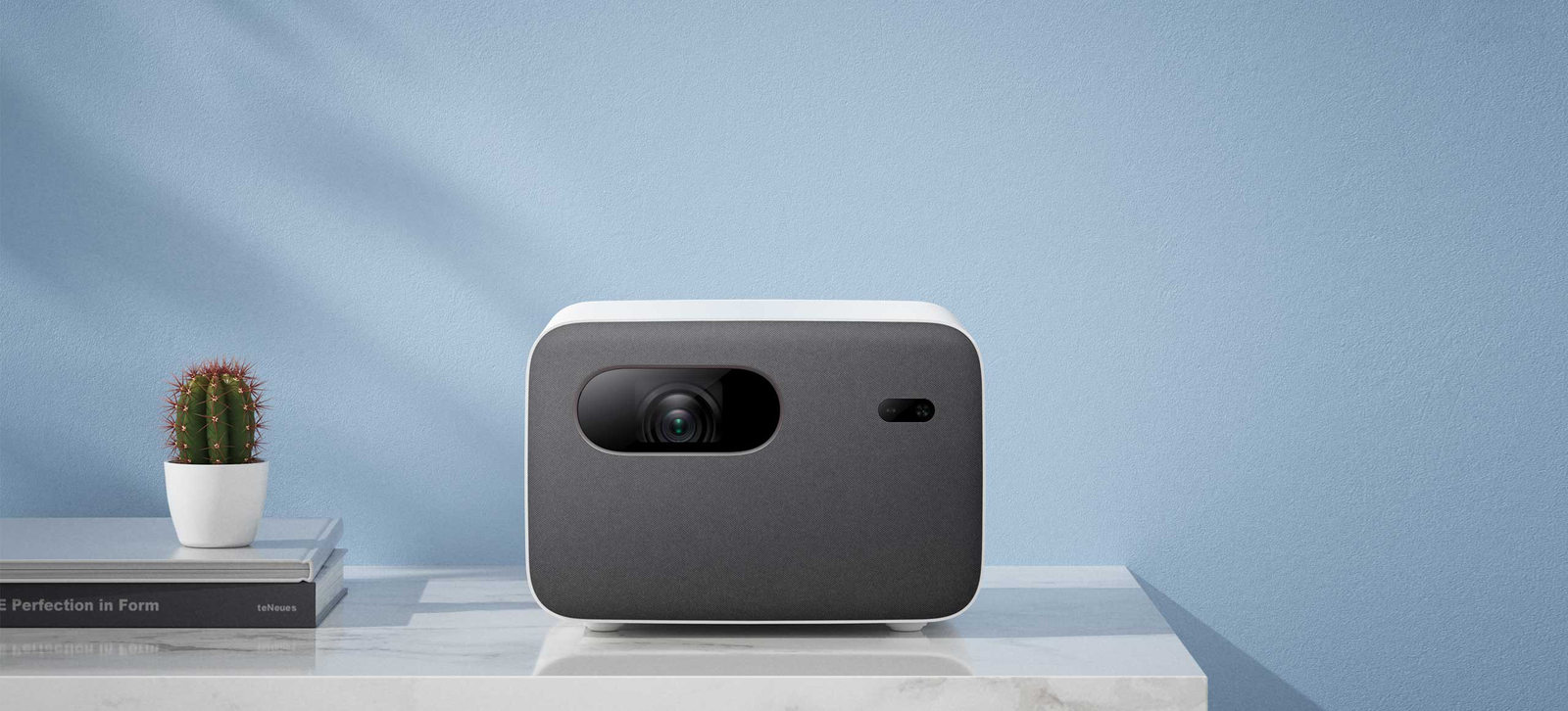 1080p FHD resolution  |  1300 ANSI Lumens  |  Large screen, up to 200 inches  |  TOF + camera dual focus mode
Omni-directional Auto-correction  |  Certified Android TV  |  Certified Netflix  |  1.75" full-frequency dual speakers
TOF + camera dual focus mode
Smart detection, instant focus
The Mi Smart Projector 2 Pro features two focus modes, TOF Instant Focus and camera focus respectively
With the assistance of a six-axis gyroscope, your content will be in focus on the first try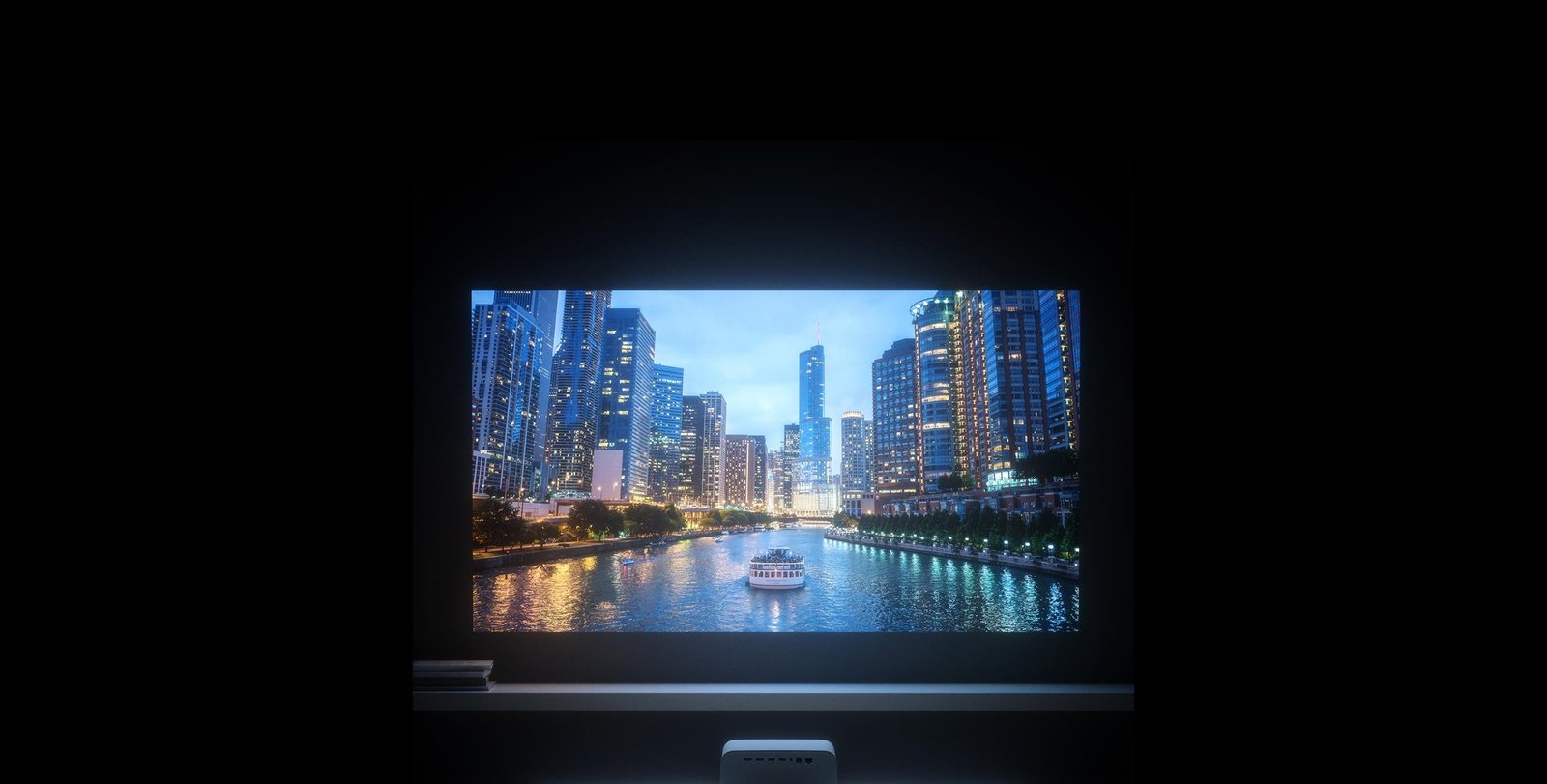 Smart hub of an IoT-enabled home
Control your experience with your voice
Use your voice to search for shows, control your projector and smart home devices, get answers, and more
Press the Google Assistant button on your remote to get started
1300 ANSI Lumens
Can also be watched during the daytime
The Mi Smart Projector 2 Pro features a 4-channel
Luminus LED light source with up to 1300 ANSI
Lumens, giving you clear sensory experience even during the daytime
1.1:1 projection ratio
Large screen even in small spaces
The Mi Smart Projector 2 Pro features a throw ratio of only 1.1:1, allowing more flexibility in terms of viewing distance
A big 60-120″ screen can be projected within a small space, providing sensational viewing experiences without the need for a big room
Omni-directional Auto-correction
Straight screen, precise correction
The Mi Smart Projector 2 Pro supports omnidirectional automatic keystone corrections, as well as functions such as automatic scaling of images and screen shift, allowing you to easily and smoothly zoom the screen from 60% to 100% and shift the screen in any direction Place anywhere you want and conveniently cast the screen onto a suitable surface
Immersive sound effects
The Mi Smart Projector 2 Pro is equipped with dual 10W, 1.75″ full-frequency high-fidelity speakers, large-size passive basin design, low frequency can dive to 60Hz. Carefully calibrated by the master of acoustics, the speakers can provide you with an immersive sound field experience making you reluctant to return to the real world

Lock screen speaker mode
Excellent tone quality, wireless connection
Turn on Bluetooth and play the playlist from your phone at any time. With sound effects tuned by professionals, you can enjoy your favorite song or audio book in great quality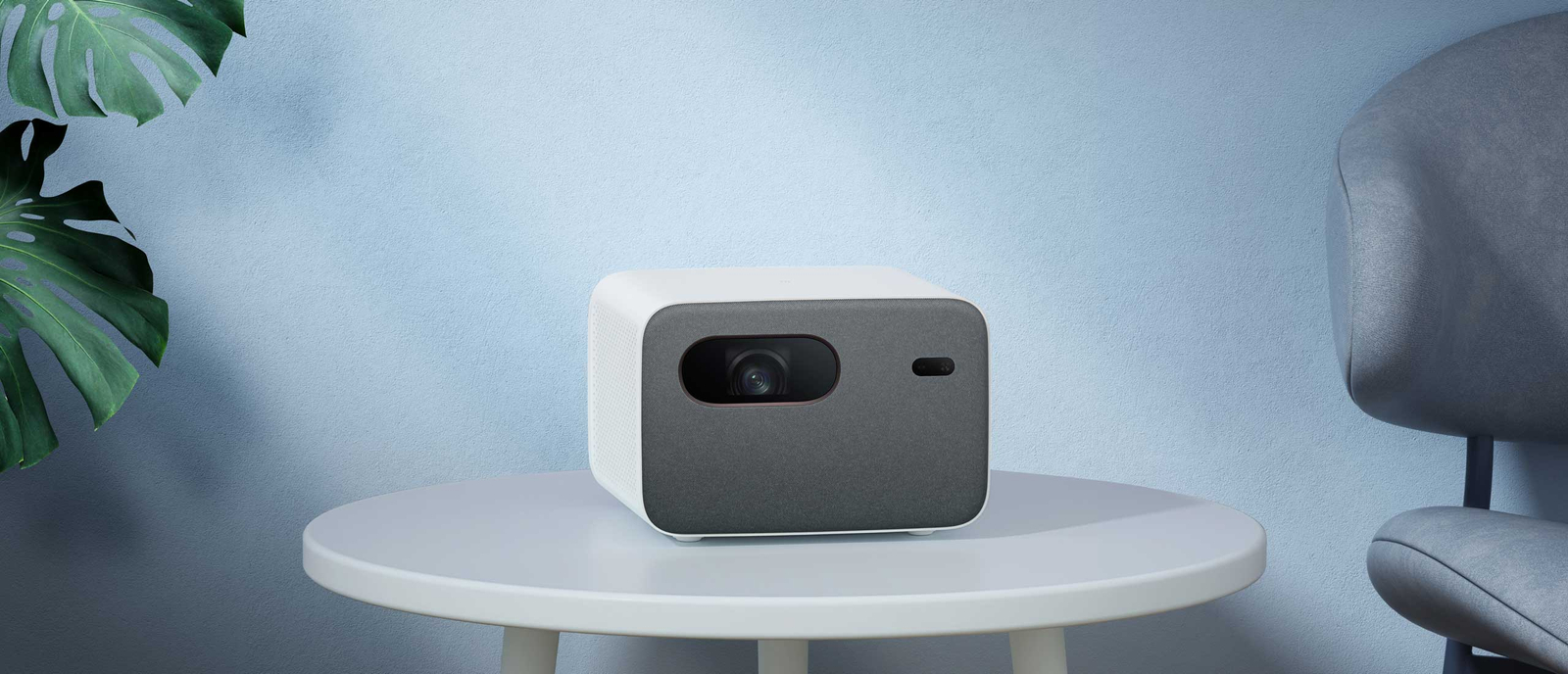 Wireless projection
Flexibly switching between a small and big screen, providing a better gaming and entertainment experience
The Mi Smart Projector 2 Pro supports Chromecast. Cast your photos, videos, and music from devices to a bigger screen easily with Chromecast built-in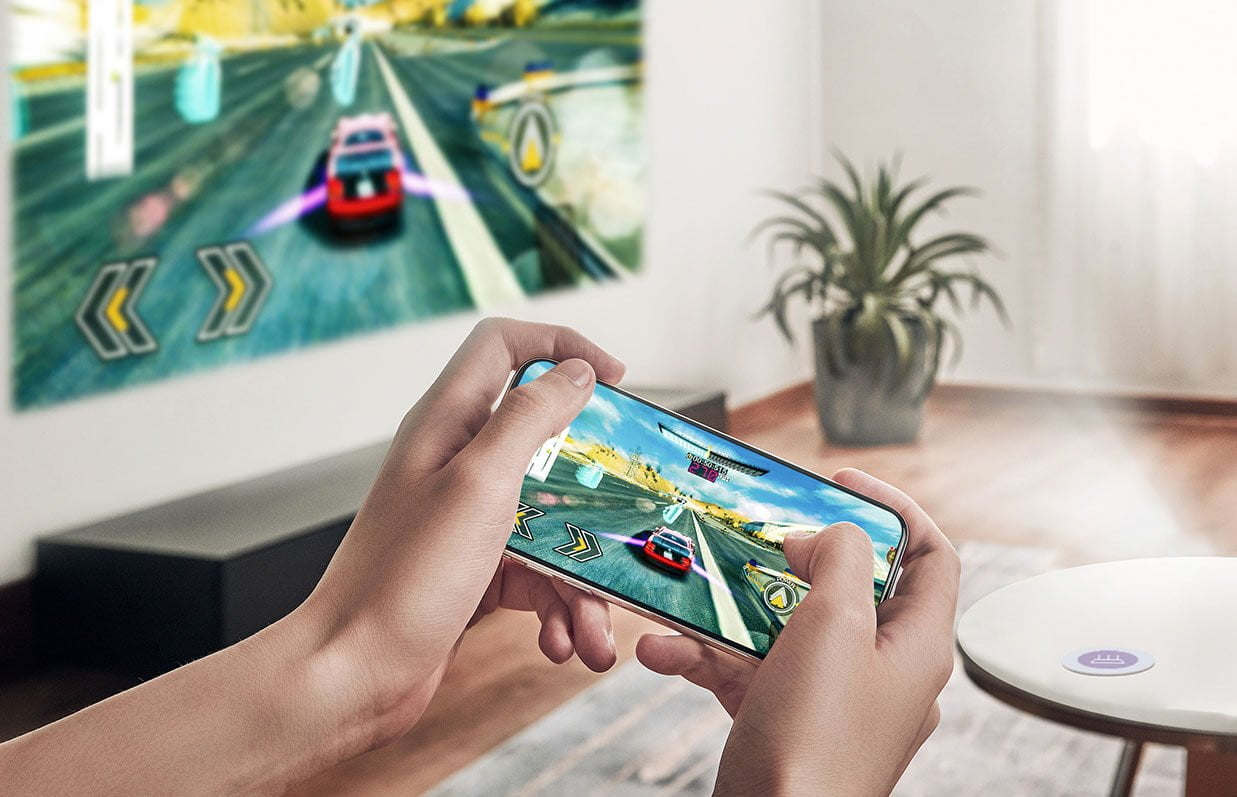 Amlogic T962X-H processor
Peak performance, less power consumption
With superior audio and video processing capabilities, image enhancement engine and high-performance processors, the projector is always one step ahead
Enjoy smarter entertainment
Simplify your entertainment experience with Android TV. Access 400,000+ movies and shows from platforms like Youtube and Netflix in one place. Ask Google to control your TV with your voice
Multiple port selections
Specifically designed for your HD experience
It has seven extension ports that enable it to connect with a computer, speakers or gamepads, satisfying both working and entertainment demands easily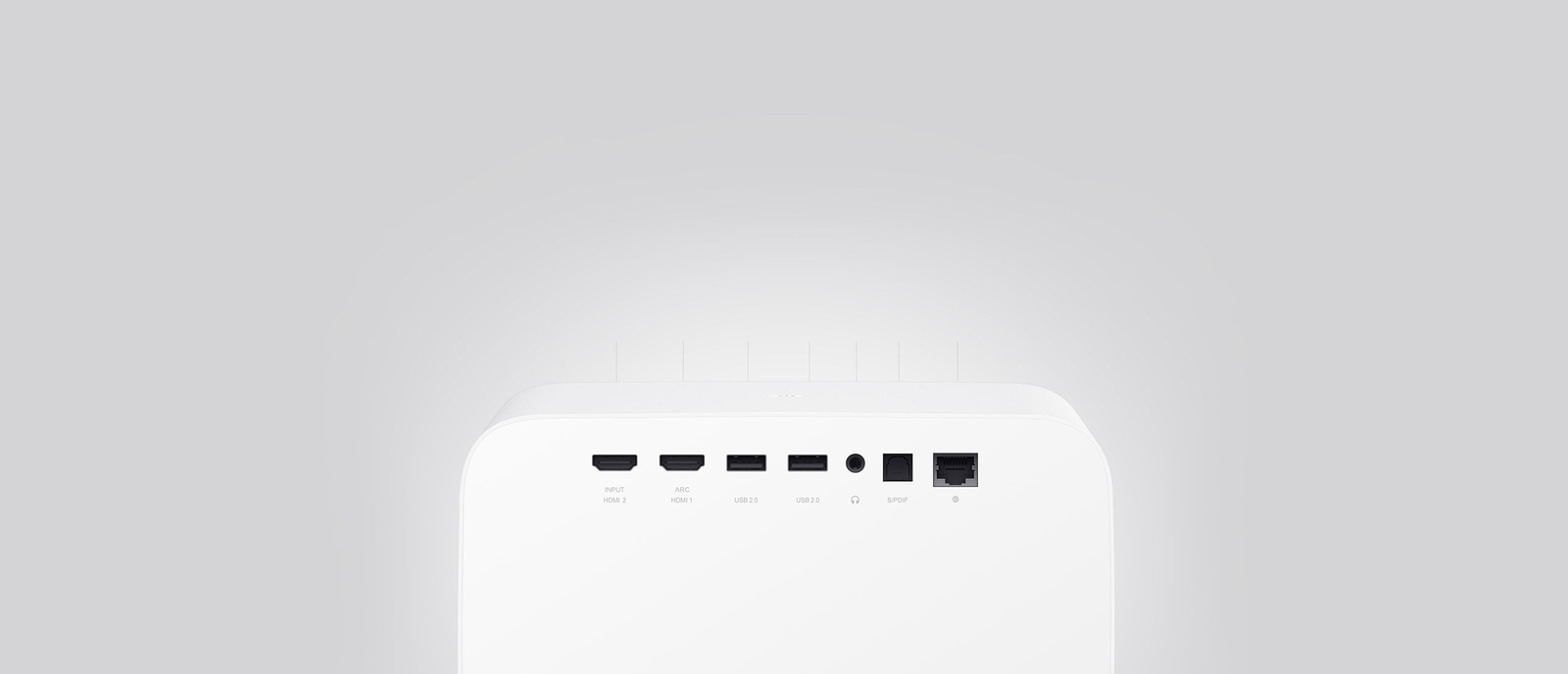 Round-edged, simple, high-end and elegant design
Easily blends in with a variety of home decoration styles
The Mi Smart Projector 2 Pro inherits the typical Mi design style, with a round-edged, simple and refined exterior. Its body size is 215×201×143mm, light and can fit almost anywhere. Although it has a built-in adapter, it is still compact and blends in nicely with most home decoration styles
Notes:
*Brightness of 1300 ANSI Lumens, color gamut of over 100% Rec.709. Tested by the Shenzhen Academy of Metrology & Quality Inspection. Report No.: WT203200760.
*Up to 200" screen size, 60 to 120" recommended projection size; projection distance and projection area are deduced based on theoretical approximations, and actual data may vary slightly.
*Calibrated by the master: Wang Fuyu, the Acoustics Director of the Mi TV, performed the calibration tests.
*Dolby certification number: #613954*DTS certification number: C237603
*All data shown above were tested by the Formovie Laboratory unless otherwise specified. As physical environments are not exactly the same, the test data may be deviant or different from actual data.
*Google Assistant is not available in certain languages and countries. Availability of services varies by country and language.
*Google, Google Play, YouTube, Android TV and other related logos are trademarks of Google LLC.
*The images and videos on this page are for illustration purposes only and may not be the exact representation of the product.