XIAOMI MI TV STICK / DIGITAL MULTIMEDIA RECEIVER
Special Features
Bluetooth remote with Google Assistant
Smart Cast
Premium surround sound
Easy to set up
Bring it everywhere
Product features
Bluetooth remote with Google Assistant
No more typing. Press the mic button on your remote to quickly find what you're looking for, whether you're searching for your favorite show, song or asking about the weather.
Smart Cast
With built-in Chromecast you can easily cast videos and other content from your phone, tablet or laptop directly to your TV screen in 1080p.
Premium surround sound
Mi TV Stick supports both DTS and Dolby multichannel HD audio decoding. The result is a smoother, dynamic, immersive and more realistic stereo surround sound during ultra HD Blu-ray video playback.
Easy to set up
Set up your Mi TV Stick in an instant. Just three easy steps to get going and you can start enjoying everything the Mi TV stick has to offer in no time!
Bring it everywhere
Never miss an episode when you're away from home. Bring the TV stick with you wherever you go.
Portable streaming Media player Xiaomi Mi TV stick It is made in a compact form factor, so it can easily fit even in the pocket of trousers. Works Mi TV stick running Android 9.0 OS and is able to turn a normal TV into a smart TV.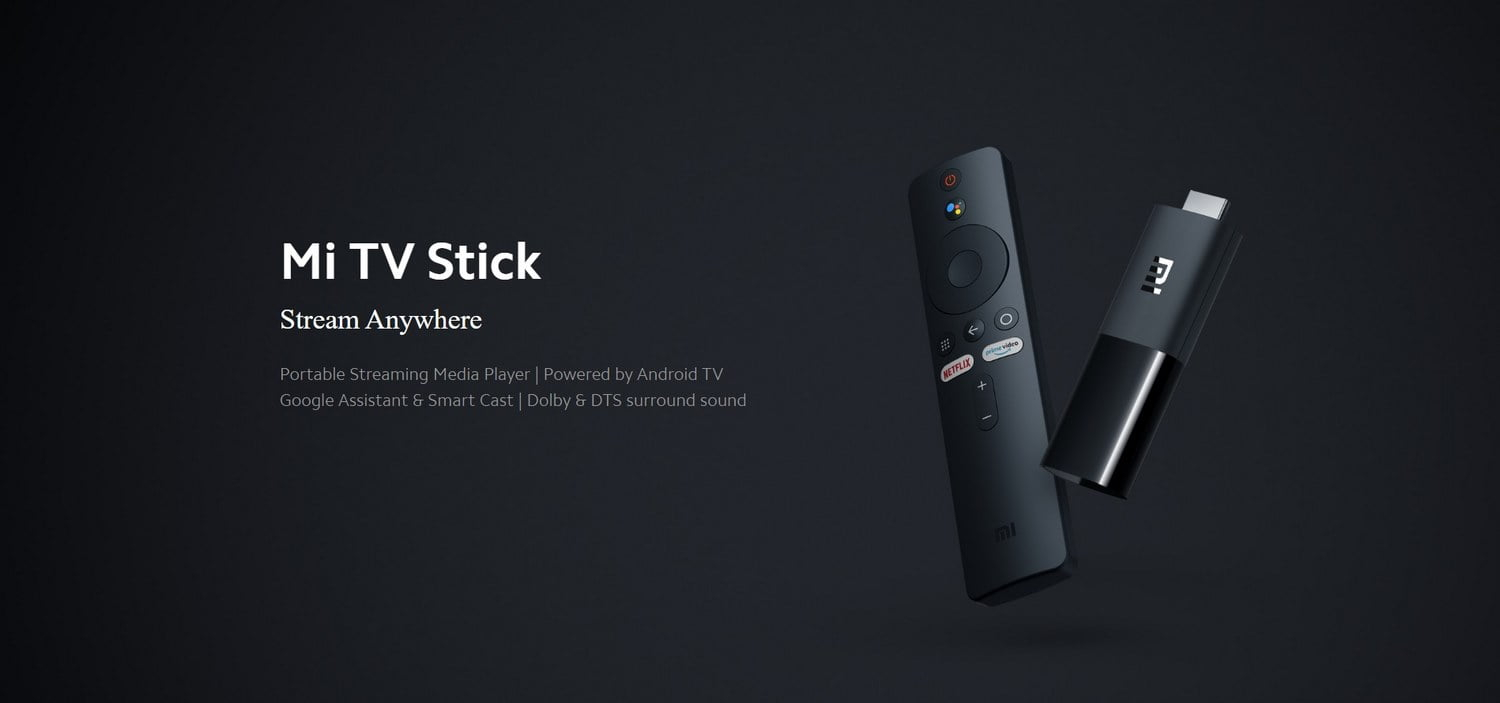 At the same time, the gadget is able to play video content as a 4K (3840×2160) Ultra HD, which will allow you to enjoy a clear, rich and contrasting Image Image Image In addition, the device received the Google Assistant and SmartCast Smart management system, which expand the capabilities of the device.

TV set-top box Xiaomi Mi TV stick supports Dolby + DTS format and provides high sound quality.
Works Xiaomi Mi TV stick on a high-performance quad-core Cortex-A53 processor running Android 9.0 OS.
Thanks to the compatibility of TV-set-top boxes with many applications, you will have access to a very wide flow of video content. Mi TV stick will also recommend a video based on your personal preferences in YouTube and Google Play.
The device is equipped with 4K HDR technology with high speed 4K processing and is able to play up to 60 frames per second.
Premium Sound with Dolby + DTS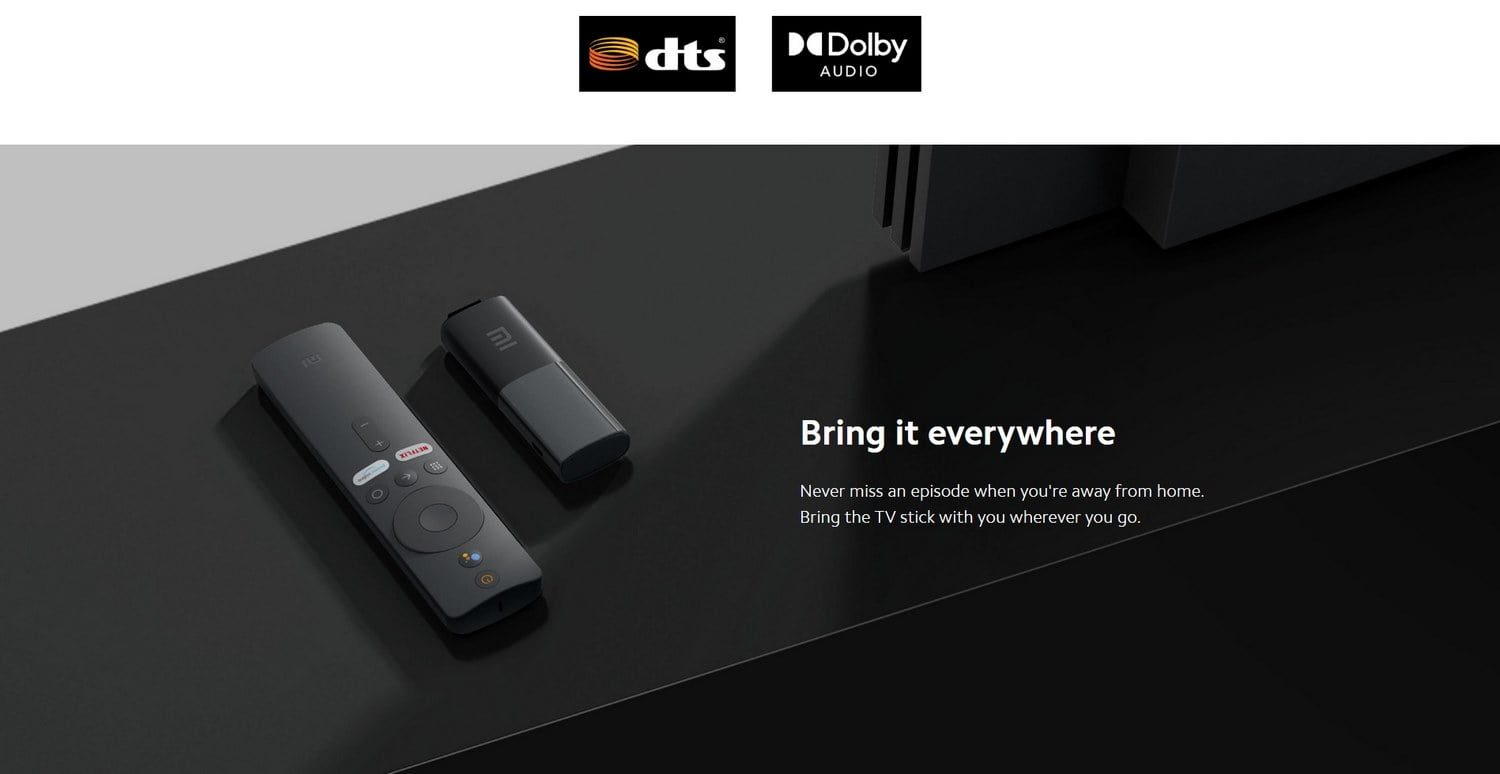 You can enjoy premium audio with three-dimensional surround sound in a fairly wide frequency range. Dolby + DTS will allow you to get into deep bass, even without using an external speaker system.
Lightweight and portable

Forget about the cables, plug the flash drive into any TV, monitor or projector with HDMI port to turn it into smart TV.

The Xiaomi Mi TV stick set-top box runs on 802.11a/b/g/n/ac and uses dual-band antenna, which provide high speed data transmission at remote locations. Bluetooth 4.2 allows you to connect wireless headphones, portable speakers and other devices to the console. Version 4.2 has low power consumption, features a reliable and stable connection.

Intelligent control from Google
Xiaomi Mi TV Stick has the function of intelligent control of Google Assistant.

No longer need to dial text on letters. Press the microphone button on the remote control to quickly find what you are looking for, weather information, your favorite show, song.
SmartCast
With built-in Chromecast, you can easily stream videos and other content from your phone, tablet or laptop directly to your TV screen in 1080p format.
Connect different devices using a wireless communication channel.


• Compatibility with smartphones, laptops and tablets.


• Support handsfree, which allows you to answer calls without stopping watching the movie.
• Very high data transfer rate.
Customize Mi TV stick in a moment